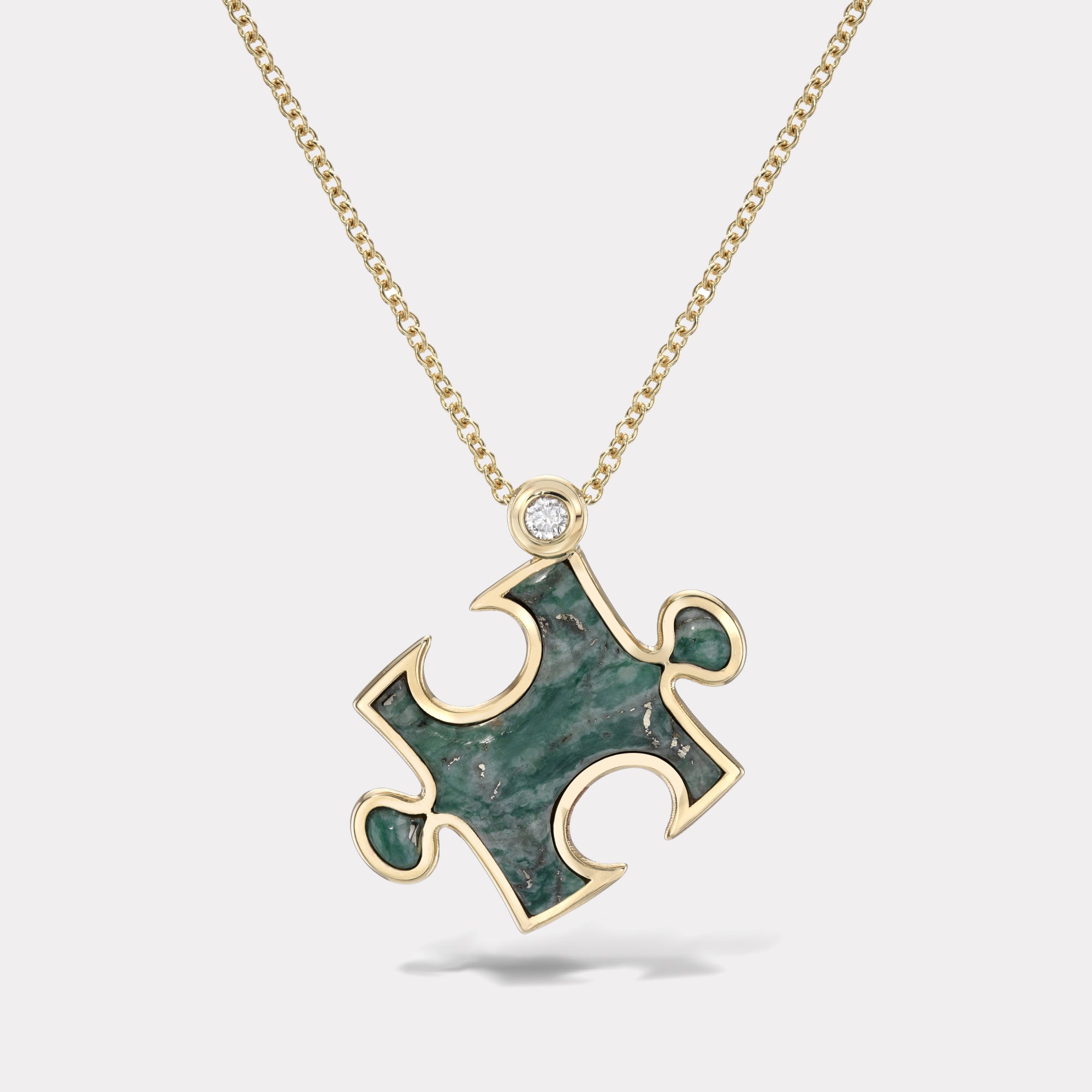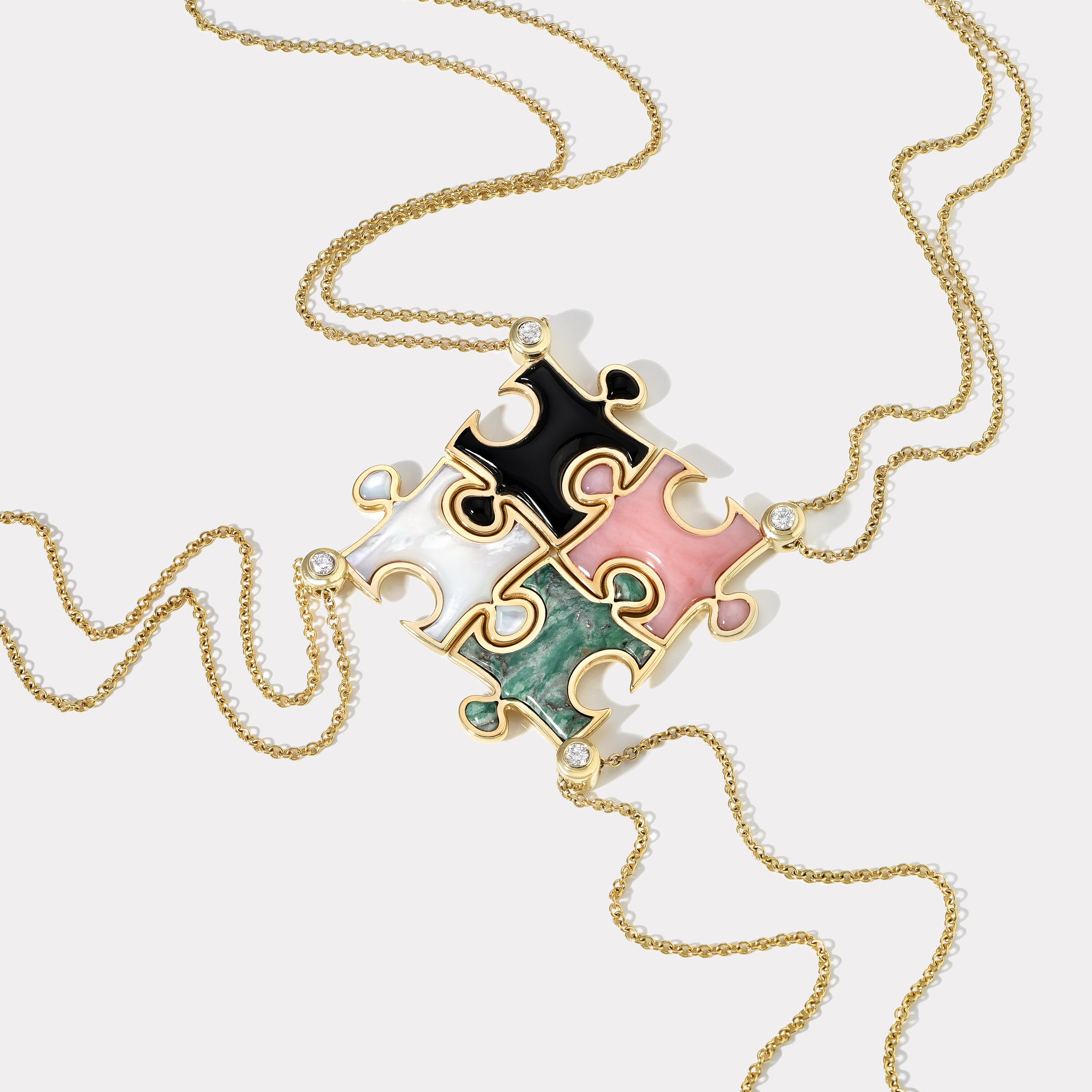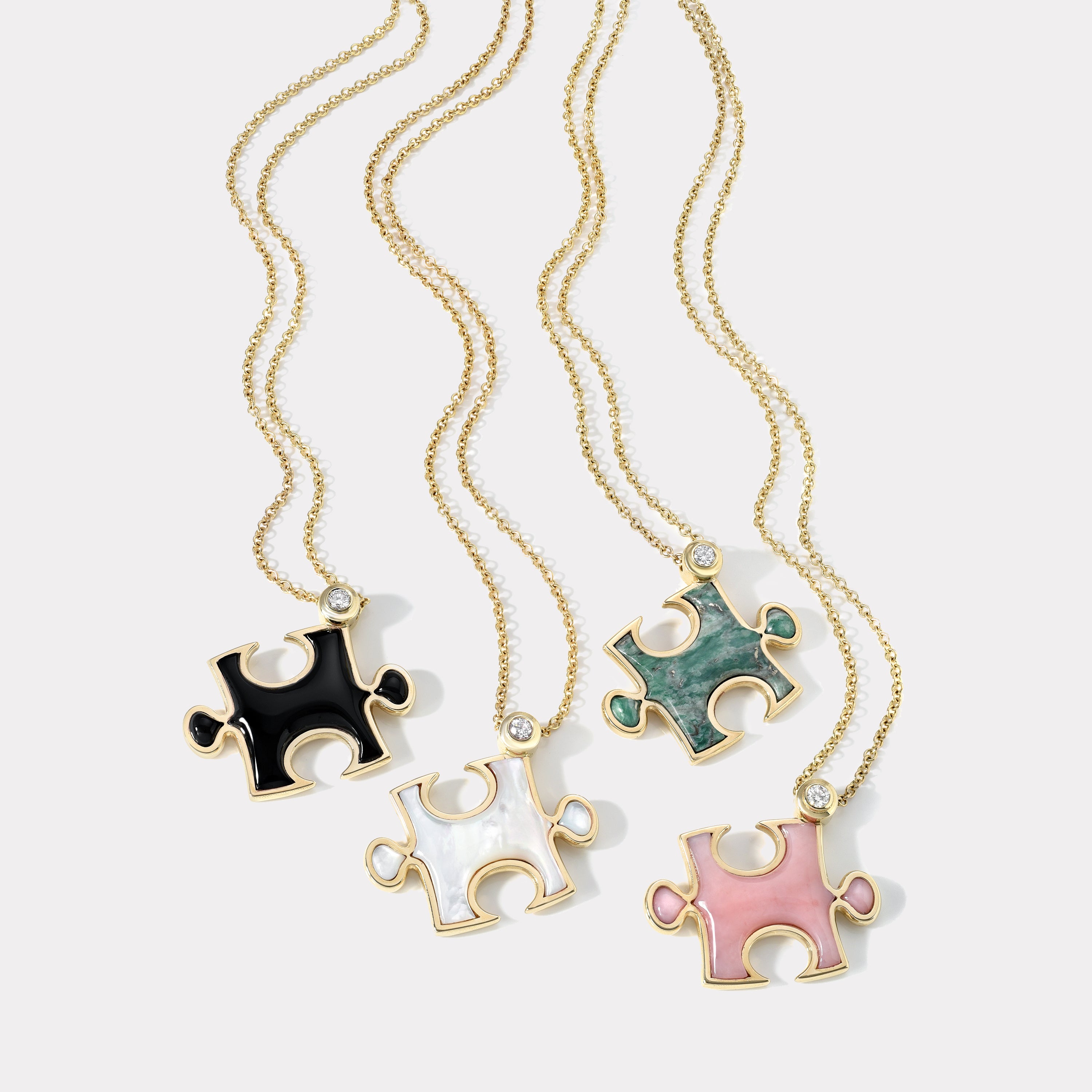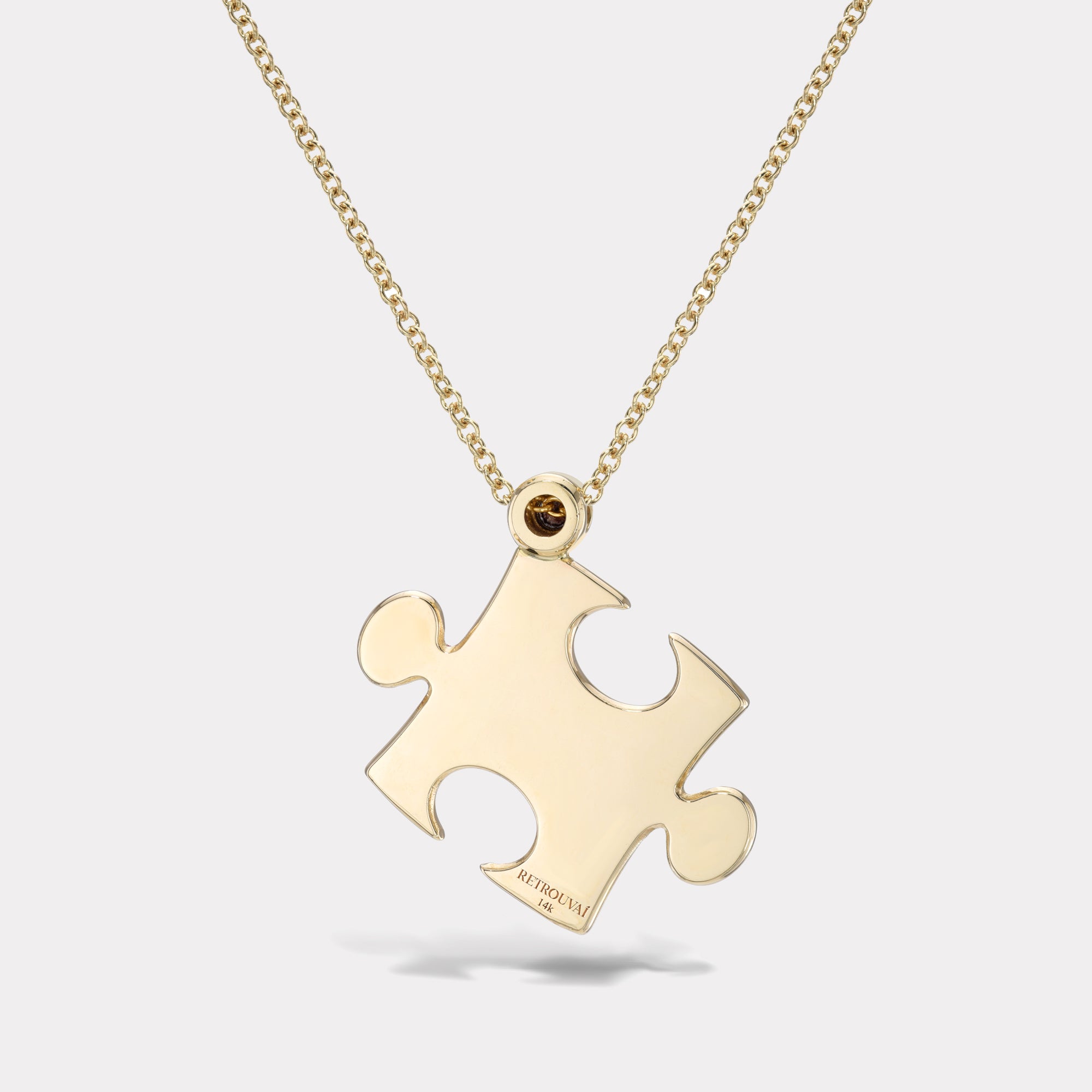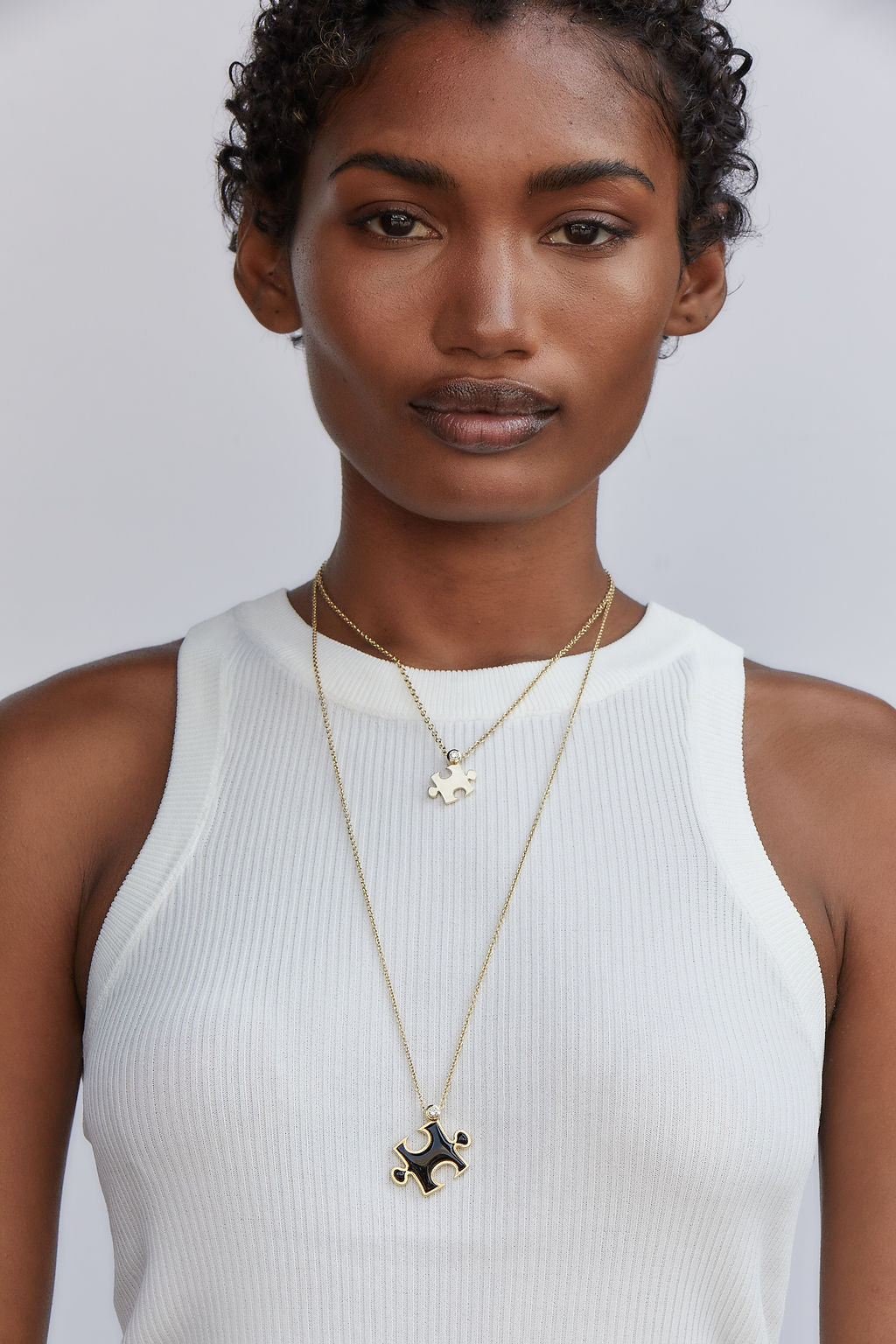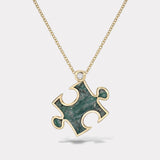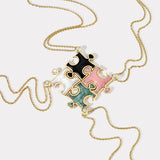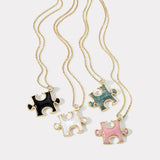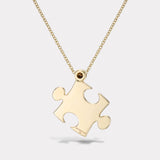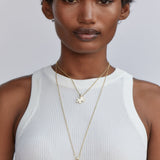 Inlay Impetus Puzzle Pendant in Serpentine
This item is made to order. Please contact us for current in-stock availability.
Description & Details

Our Impetus collection includes interlocking and puzzle shapes which represent that we are each individually part of a much larger picture. The force behind this collection was thinking about the idea of purpose and drive. What gets you up in the morning, is it your family, your passion for your work, passion for exploration etc...

This pendant is solid 14k yellow gold and features hand cut natural Serpentine inlay. The pendant moves freely along the chain with a white round brilliant diamond bail (Diamond is 0.10ct). 

Offered with 16", 20" or 26" chain lengths. 

Every piece is handmade to order in Los Angeles. Note that typical production lead time is 4-6 weeks, however if you require rush delivery please contact us to inquire about in stock inventory. 

Note photo on the body shows a Black Onyx piece on a 26" chain.



Made with Love in Los Angeles

We make jewelry with integrity. The collection is crafted by a small team of skilled artisans who take pride in their work. In the studio, we recycle as much gold as possible. For non-recycled metal, our caster works exclusively with fair trade, fair mined gold. We work with extremely reputable diamond and gemstone dealers both locally and abroad. Our melee (accent diamonds) are conflict-free and consistently sourced from a single supplier. Diamonds with a GIA report are available over 0.25ct upon request. Please inquire for associated costs. Colored stones and the rough stone for our inlay are hand selected. All of our inlay is hand cut in Los Angeles.
Fully Insured Shipping

We offer complimentary FedEx 2-day signature-required delivery, within the United States. We will contact you via email prior to shipping. We do ship internationally but we do not collect any sales tax, duties or customs on international orders. For international deliveries you are responsible for any sales tax, duties or customs collected by your local government. Please contact us prior to purchase with any questions and to learn about expedited shipping options. 
Returns & Repairs Policy

Please note we do not accept returns. If you have questions or concerns, or are buying a gift, please contact us prior to making a purchase, we are more than happy to assist. Read more about our Returns & Repairs policy. If your Retrouvaí piece becomes damaged, please email us at inquiry@retrouvai.com. Professional cleaning is also available.
Style Number: NL-090-OOAK2
We offer payment installment options with ShopPay/Affirm. Check out with ShopPay to view installment options.
We offer fully insured shipping. Domestic orders are shipped via FedEx 2-day signature required delivery. 
Questions? Get in Touch.
Inlay Impetus Puzzle Pendant in Serpentine